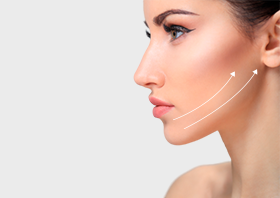 MINT lift, is a safe and effective polydioxanone (DOP) molded thread for lifting soft tissues in sagging skin, which has obtained Korean FDA clearance (MFDS). It is a minimally invasive treatment, without scars and trauma, with which you can return to daily life immediately after the procedure.

Leer más
Human tissue is made up of 3D structures, therefore, it is difficult to expect to see a great result with a thread, at least it has 3D helical spicules. MINT Lift, insured by Patent Law, features 360 ° spicules on the threads and creates a strong tightening effect, effectively correcting facial tissue in various directions. This is what makes MINT Lift special.

MINT Lift 43 easy
To provide a simple procedure (compared to MINT Lif 43), needles are placed on each side of the thread.

MINT lift 15 FINE
To provide a strong lifting effect and ensure the safety of a treatment MINT Lift 15 is designed with a W-type cannula. It minimizes damage to blood vessels and nerves while inserting the cannula into the skin.
MINT lift is recommended for people who experience moderate sagging in the midface, papaya, nasolabial folds, neck, and eyebrows.
Our Threads provide immediate benefits in skin texture, fine lines, elasticity and stimulation for the generation of collagen which will give the skin a firmer appearance. However, the procedure is also ideal for younger patients looking to define their jaws with sharper V-lines and obtain a more trimmed and contoured facial structure or correct droopy eyelids.

Patients will see an immediate result after the procedure and for up to a year.